Quality of Medical Information on the InterNet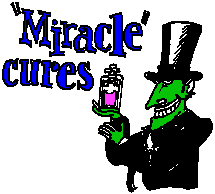 This page is dedicated to source reliability issues for cancer related information on the Internet.
Anyone can publish on the Internet and to a large extent information is unregulated - so users should be aware of quality of information issues. Many sites offer high quality information, however there are reports of inaccurate and misleading information on the Internet. There are a number of groups proposing standards, however because of the nature of the Internet these will be difficult to enforce.
If you are a patient you are strongly advised to discuss any information concerns you may have with your doctor.
You may find it useful to assess each information site that you visit. For example:
Who wrote the information ?
what are the author(s) experiences / qualifications ?
When was it last updated ?
is the information out of date ?
How is it funded ?
are there any conflicts of interest ?
What type of information is it?
descriptive or prescriptive ?
always be sceptical of any medical advice on the internet.
discuss your concerns with your doctor.
For medical information:
does the site have an editorial board that includes independent medical experts ?
For medical information:
how reliable is the evidence that findings are based on ?

Quality of Information Issues

Standards for Health Information on the Internet

Levels of Evidence / Evidence Based Medicine
Quality of Information Issues (7 links)
Half of medical reporting 'is subject to spin'

NHS Choices
NHS Choices information is quality assured by experts and content is reviewed at least every 2 years. Further info.
'A study that you probably wont be reading in your daily paper or favourite news website anytime soon casts serious doubts on the reliability of mainstream medical and health journalism....'

How to read health news

NHS Choices
NHS Choices information is quality assured by experts and content is reviewed at least every 2 years. Further info.
A short article which gives advice about reading health news and not always taking it at face value.

A Special Message for Cancer Patients Seeking 'Alternative' Treatments

Quackwatch

Cancer Treatment Watch

Quackwatch
"This sites main purpose is to debunk ineffective methods marketed as cures. If you or a loved one is diagnosed with cancer, investigate carefully and don't let fear or desperation cloud your judgment."

Evaluating Internet Health Information

National Library of Medicine
A Tutorial from the National Library of Medicine, it is about 16 minutes long (requires Flash). 'Using the Internet to find health information is like going on a treasure hunt...'

Health Fraud Scams

Food and Drug Administration
Vodeo and other resources. 'Health fraud scams waste money and can lead to delays in getting proper diagnosis and treatment. They can also cause serious or even fatal injuries.'
Standards for Health Information on the Internet (4 links)
HON Code of Conduct for medical and health Web sites (HONcode)

HON
A code of conduct established in 1995, widely used around the world, with a certification scheme. HON is a non-profit, non-governmental organization, accredited to the Economic and Social Council of the United Nations.

DISCERN

Oxford University
An online tool for rating consumer health information on treatment choices. It is produced by researchers at the University of Oxford.

Health On the Net Foundation

HON
A Non-Governmental Organization, internationally known for its pioneering work in the field of health information ethics, notably for the establishment of its code of ethical conduct, the HONcode.

The Information Standard

Capita
A certification scheme for organisations in England producing evidence-based health and care information for the public in the UK. Commissioned by NHS England and run by Capita.
Levels of Evidence / Evidence Based Medicine (3 links)
How can you be confident about the scientific soundness of what you read ? It is important to read publications critically, and access the levels of evidence behind the papers findings. In addition, there is a growing amount of medical information on the Internet, much of which is not peer-reviewed.
Levels of Evidence for Adult and Pediatric Cancer Treatment Studies

National Cancer Institute
Guide to help judge a) the strength of study design, and b) the strength of study end-points.

Centre for Evidence-based

Oxford University
The site includes details of the centre, teaching materials, and links to related information.

Cochrane Collaboration

An international network working to help healthcare practitioners, policy-makers, patients, their advocates and carers, make well-informed decisions about health care, by preparing, updating, and promoting the accessibility of Cochrane Reviews.