Appendix Cancers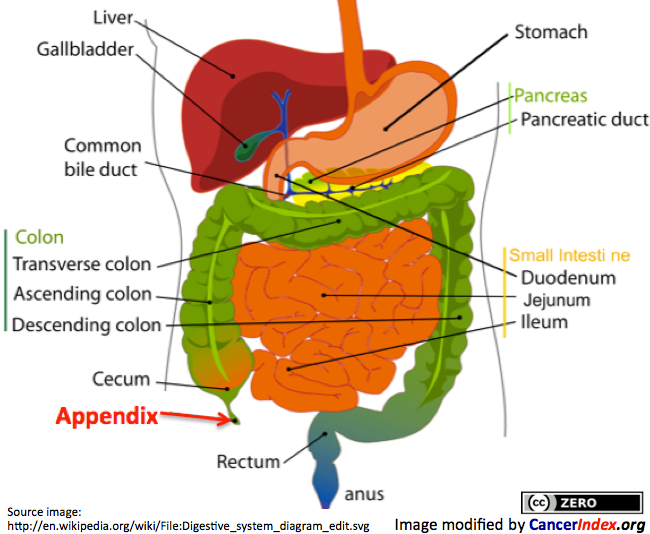 Cancer of the Appendix (also known as appendiceal cancer) occurs when cells in the appendix become abnormal and multiply without control. There are a range of different types of tumours and cancers which can start in the appendix. About two thirds of appendix tumours are carcinoid tumours which develop in hormone-producing cells that are present in many parts of the body, including the appendix. Mucinous cystadenocarcinoma account for about a fifth of appendix tumours, these produces mucin (a jelly-like substance). Pseudomyxoma Peritonei (PMP) is a more common name given to the "jelly belly" syndrome caused by mucinous adenoma and mucinous adenocarcinoma. Less common tumours of the appendix include signet-ring cell adenocarcinoma and paraganglioma. Treatment varies according to the type and stage of tumour.

Information for Patients and the Public

Information for Health Professionals / Researchers

Latest Research Publications

Gastrointestinal Carcinoid Tumours

Gastrointestinal Cancers
Information Patients and the Public (13 links)
Gastrointestinal Carcinoid Tumors Treatment

National Cancer Institute
PDQ summaries are written and frequently updated by editorial boards of experts Further info.


Appendix Cancer

Cancer.Net
Content is peer reviewed and Cancer.Net has an Editorial Board of experts and advocates. Content is reviewed annually or as needed. Further info.


Pseudomyxoma peritonei

Cancer Research UK
CancerHelp information is examined by both expert and lay reviewers. Content is reviewed every 12 to 18 months. Further info.
Questions and asnwers

Pseudomyxoma peritonei

Macmillan Cancer Support
Content is developed by a team of information development nurses and content editors, and reviewed by health professionals. Further info.


Appendiceal Cancer Advocacy Network

A patient-based advocacy organization, founded in 2004, dedicated to serving the needs of those diagnosed with cancer of the appendix.

Appendix Cancer

Robert J. Miller, M.D - abourcancer.com
Short overview of appendix cancer and published abstract.

Appendix Cancer Connection

Founded by Carolyn Langlie-Lesnik RN BSN, a survivor of appendix cancer. The site includes information about the types of appendix cancer, treatment, survivors' stories, FAQ.

PMP Awareness Organization

Promoting Awareness of PMP (Pseudomyxoma Peritonei), Appendiceal Cancer and other Peritoneal Surface Malignancies.

PMP Pals' Network

Support network and information about the various forms of appendix cancer.

PMP Research Foundation

A charitable organization founded in 2008 by a community of individuals affected by Pseudomyxoma Peritonei (PMP) and related Peritoneal Surface Malignancies (PSM). The site includes a FAQ and community information.

Pseudomyxoma Survivor

A registered charity which provides a support network for survivors and carers of Pseudomyxoma Peritonei. For those that are newly diagnosed, there is buddy system, Pseudomyxoma Buddies, which is free of charge and available UK wide.

What is Appendiceal Cancer?

Shooting for a Cure
Shooting for a Cure raises money for the Ric Summers Appendical Cancer Research Fund, linked to the MD Anderson Cancer Center in Houston.
Information for Health Professionals / Researchers (4 links)
This list of publications is regularly updated (Source: PubMed).