Digestive and Gastrointestinal System cancers.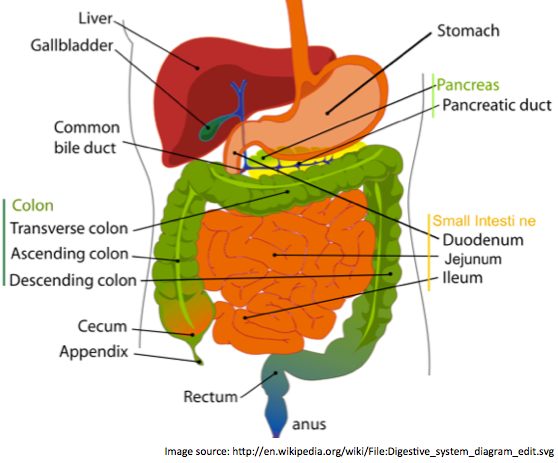 Menu: Gastrointestinal System Cancers

Anal Cancer

Appendix Cancers - including PMP

Colorectal (Bowel) Cancer

Esophageal Cancer

Extra-hepatic Bile Duct Cancer

Gallbladder Cancer

Gastrointestinal Carcinoid Tumours

Gastrointestinal Stromal Tumours

Liver Cancer

Pancreatic Cancer

Stomach (Gastric) Cancer

Small Bowel Cancer

Medical Terminology - Gastrointestinal

General Resources for GI Cancer

Latest Research Publications
This list of publications is regularly updated (Source: PubMed).
Molecular mechanisms specific to colitis-associated cancers have been poorly characterized. Using comparative whole-genome expression profiling, we observed differential expression of epiregulin (EREG) in mouse models of colitis-associated, but not sporadic, colorectal cancer. Similarly, EREG expression was significantly upregulated in cohorts of patients with colitis-associated cancer. Furthermore, tumor-associated fibroblasts were identified as a major source of EREG in colitis-associated neoplasms. Functional studies showed that Ereg-deficient mice, although more prone to colitis, were strongly protected from colitis-associated tumors. Serial endoscopic studies revealed that EREG promoted tumor growth rather than initiation. Additionally, we demonstrated that fibroblast-derived EREG requires ERK activation to induce proliferation of intestinal epithelial cells (IEC) and tumor development in vivo. To demonstrate the functional relevance of EREG-producing tumor-associated fibroblasts, we developed a novel system for adoptive transfer of these cells via mini-endoscopic local injection. It was found that transfer of EREG-producing, but not Ereg-deficient, fibroblasts from tumors significantly augmented growth of colitis-associated neoplasms in vivo. In conclusion, our data indicate that EREG and tumor-associated fibroblasts play a crucial role in controlling tumor growth in colitis-associated neoplasms.
Peritoneal metastasis from gastric cancer is often undetectable by routine imaging studies. Even a microscopic metastasis detected only by cytologic examination of the peritoneal washes denotes a dismal prognosis, and surgery is ruled out as futile for patients who turn out to be cytology-positive by staging laparoscopy. On the other hand, recent developments in cancer chemotherapy have improved the outcome of the cytology-positive population to the point where a certain proportion of these patients survive for 5 years through a straightforward strategy of radical surgery followed by chemotherapy. Thus, there is certainly a role for surgeons in patients with minimal peritoneal metastasis, both in clinical practice and in clinical trials where multimodal treatment strategies including surgery are to be explored. Even in this category of patients, surgery in combination with various types of chemotherapy remains the only hope for a cure.
We aimed to determine semiquantitative evaluation criteria for Crohn-like lymphoid reaction (CLR). We reviewed 1,032 patients with colorectal cancer and evaluated CLR by counting all peritumoral lymphoid aggregates (LAs) and by measuring the maximum diameter of the largest LA. The maximum diameter of the largest LA, rather than the number, had a significant impact on survival. Active CLR determined by the 1-mm rule was significantly associated with MLH1/MSH2 immunohistochemical staining deficiency. The group with LAs 1 mm or larger had lower recurrence (P = .0008) and a higher survival rate (P < .0001) than that without LAs 1 mm or larger. These results were similarly observed in another cohort of 500 patients with colorectal cancer. The k values for CLR evaluation among 8 observers were 0.67 for the 1-mm rule and 0.50 for Graham's criteria. The size of the largest LA best reflects the specific characteristics of CLR, and the 1-mm rule is expected to improve assessment reproducibility.
Li-Fraumeni syndrome is a cancer predisposition syndrome associated with a variety of neoplasms, mainly soft tissue sarcoma, premenopausal breast cancer, brain tumors, adrenocortical carcinoma, and leukemia. Esophageal leiomyomatosis involves the presence of several rare benign neoplastic lesions composed of proliferating smooth muscle cells in the esophageal wall. The current case report presents a patient with recurrent diffuse leiomyomas of the esophagus and confirmed p53 mutation with clinical criteria of Li-Fraumenilike syndrome.
Oesophageal cancer, a disease with high morbidity and mortality, has a relatively high incidence in eastern India, usually presenting at advanced stage. The main aim of treatment for majority of patients remains palliation of dysphagia, which can be effectively done by intraluminal brachytherapy with or without external radiotherapy. Between January 2006 to January 2010 a total of 35 patients with advanced/metastatic (24/35) or recurrent (11/35) oesophageal carcinoma were treated with intraluminal high dose rate (HDR) iridium192 source brachytherapy at Medical College Hospitals, Kolkata. Selection for palliative brachytherapy includes one or more of the following criteria: Lesion more than 5 cm long on imaging studies or upper GI endoscopy, Karnofsky performance status < or = 50%, Locoregional recurrence. Palliative external radiotherapy (20 Gy/5# or 30 Gy/10#) was given to 11 patients (31.42%) before brachytherapy. All patients treated with 2 fractions of high dose rate-intraluminal brachytherapy (HDR-ILRT) one week apart with 600 cGy per fraction at 1 cm off axis. Thirty-five patients were treated with palliative HDR-ILRT. Significant improvement in swallowing status was seen in 20 patients (57.14%) since just after treatment up to 7.5 months. However, 9 patients (25.71%) showed no improvement, and 6 patients (17.14%) showed no changes in dysphagia scoring. Only 3 patients developed ulceration and 2 developed fistula immediately after treatment and 5 patients developed stricture. Median dysphagia-free survival was 6 months. Median overall survival was 8 months. It is concluded that intraluminal brachytherapy is an effective method for palliation of dysphagia for reasonably prolonged period.
Neurofibromatosis type 1 (NF1), a relatively common autosomal dominantly inherited condition with complete penetrance but extremely variable phenotypic expressivity, is caused by mutations in the NF1 gene. The disease is defined clinically by its cutaneous (cafe-au-lait macules, inguinal and axillary freckles) and neural (neurofibromas, plexiform neurofibromas, Lisch spots, optic nerve gliomas) signs, but it can involve many other systems including the gastrointestinal, pulmonary, respiratory, skeletal and vascular systems. Involvement of these other systems can sometimes manifest itself in clinically confusing ways. For example, the literature includes reports of patients with NF1 that has caused pulmonary hypertension, spontaneous hemothorax, and gastrointestinal bleeding. We present the case of a man with NF1 who presented with recurrent unexplained thromboembolic disease and died suddenly in the hospital. In addition to confirming his suspected massive pulmonary thromboembolus (PE), an autopsy revealed an unsuspected periampullary duodenal carcinoid tumor. The potential connections between the patient's NF1, duodenal tumor, and fatal PE are discussed. The case highlights the importance of bearing in mind the protean clinical manifestations of NF1.
Immune thrombocytopaenia (ITP) was referred to previously as idiopathic thrombocytopaenic purpura and is usually of autoimmune or viral aetiology. Colorectal cancer liver metastasis with concomitant ITP is rare and only three cases have been reported in the English literature. Adverse effects of adjuvant chemotherapy may aggravate ITP. The sequencing of chemotherapy, operation for the primary and liver metastasis, and a decision on splenectomy is important. We present our experience in the management of a 52-year-old man who, having undergone anterior resection one year earlier for carcinoma of the rectum, presented with liver metastasis and ITP. He underwent splenectomy with hepatectomy prior to chemotherapy.
Lower gastrointestinal bleeding is a common general surgical presentation in acute and chronic settings. Vascular anomalies account for 2% of such cases and can therefore be missed. We discuss a rare vascular anomaly in one of our patients where the diagnosis was not established for a ten-year period. We describe the subsequent management and a brief review of the literature of this uncommon condition.
This page last updated: 22nd May 2013
Displaying links verified within last 2 weeks at time of update.