Digestive and Gastrointestinal System cancers.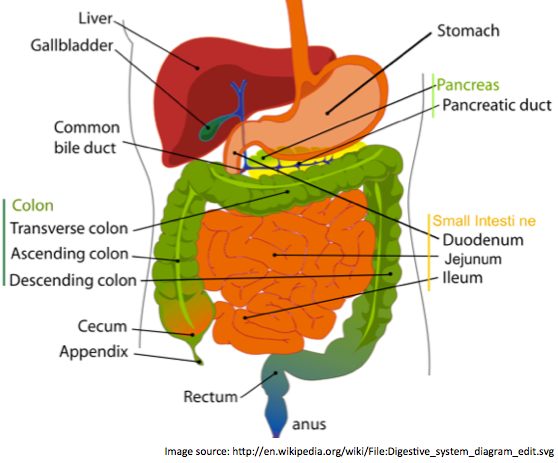 Menu: Gastrointestinal System Cancers

Anal Cancer

Appendix Cancers - including PMP

Colorectal (Bowel) Cancer

Esophageal Cancer

Extra-hepatic Bile Duct Cancer

Gallbladder Cancer

Gastrointestinal Carcinoid Tumours

Gastrointestinal Stromal Tumours

Liver Cancer

Pancreatic Cancer

Stomach (Gastric) Cancer

Small Bowel Cancer

Medical Terminology - Gastrointestinal

General Resources for GI Cancer

Latest Research Publications
American Gastroenterological Association

AGA
Founded in 1897, the AGA has grown to include more than 16,000 members from around the globe who are involved in all aspects of the science, practice and advancement of gastroenterology. The AGA Institute administers the practice, research and educational programs of the organization. Stomach Cancer

ESMO World Congress on Gastrointestinal Cancer

Frontiers in Gastrointestinal Cancers

Frontiers journals

Gastrointestinal Cancers Portal

American Society of Clinical Oncology
A portal including information fed from JCO, other journals, ASCO conferences and other sources.

Gastrointestinal Cancers Symposium

A annual conference - multidisciplinary which brings together a diverse group of stakeholders involved in the prevention, detection, and treatment of GI cancers.It includes translational research, novel clinical therapies, and state-of-the-art science in GI oncology.

Journal of Gastrointestinal Cancer

Springer
"The multidisciplinary Journal of Gastrointestinal Cancer publishes novel research pertaining to cancers arising from the gastrointestinal tract. Coverage spans all relevant fields, emphasizing studies that aid in understanding and treating cancers affecting the esophagus, stomach, liver, gallbladder and biliary tree, pancreas, small bowel, large bowel, rectum, and anus." Stomach Cancer

Journal of Gastrointestinal Oncology

Pioneer Bioscience Publishing
Official journal of Society for Gastrointestinal Oncology (SGO), an open-access, international peer-reviewed journal.

Oncology Clinical Trials Office - University of Oxford

OCTO
OCTO run regional and national clinical trials, aiming to provide high-quality clinical research into innovative and effective cancer therapies and prevention strategies particularly in the field of gastrointestinal cancer.

Translational Gastrointestinal Cancer

AME Publishing
Open Access journal of the Society for Translational Cancer Research and Chinese Society of Gastric Cancer. New findings in translational research in GI cancers, diagnosis, prevention and clinical investigations of GI cancers.
This list of publications is regularly updated (Source: PubMed).
Carcinoma of colon and rectum is one of the most common malignancies of gastrointestinal tract. Primary ileostomy cancer following excision of primary tumour is a rare complication although a number of cases have been reported in the last 30 years. This case also reports lymph node metastasis to the adjacent mesenteric lymph nodes. Appearance of ileostomy tumour as synchronous or metachronous lesion is highly debatable. Once diagnosis is confirmed by biopsy enblock excision with or without stomal relocation is the main stay of treatment. Patient education and regular surveillance of patients with long-standing ileostomy is recommended for early detection of this unusual cancer.
Although staging for colon cancer has become more complex over time, it is not clear that this complexity has improved prognostic assessment. Even with revisions in the 7th edition of the AJCC staging system, a clear rank order of prognosis from substage to substage has not been established. Improved staging models will need to be developed, and attempts at further identifying those high-risk patients within each stage may be clinically useful. Through improved quality measures with lymph node yield, advances in colon cancer staging accuracy have been made over the last decade. Determining how to incorporate ultrastaging and molecular techniques will be the challenge for future staging models.
In summary, ZES is a syndrome caused by gastrinoma, usually located within the gastrinoma triangle and associated with symptoms of peptic ulcer disease, GERD, and diarrhea. The diagnosis of ZES is made by measuring fasting levels of serum gastrin, BAO, and the secretin stimulation test. Because of the high association of ZES and MEN1, HPT must be excluded by obtaining a serum calcium and parathyroid hormone level. Treatment of ZES consists of medical control of symptoms with PPIs and evaluation for potentially curative surgical intervention. Noninvasive imaging studies including SRS, CT, and MRI should be performed initially to evaluate for metastases and identify resectable disease. Invasive imaging modalities such as EUS may be performed to further evaluate primary tumors. IOUS, palpation, and duodenotomy are used for intraoperative localization of gastrinomas. In patients with MEN1, surgical resection should be pursued only if there is an identifiable tumor larger than 2 cm and after surgery for the primary hyperparathyroidism (3 1/2-gland parathyroidectomy). All patients with resectable localized sporadic gastrinoma should undergo surgical exploration, even those with biochemical evidence but negative imaging studies. Tumor is most commonly found in the duodenum, and the cure rate is high. In patients with liver metastases, surgery should be considered if all identifiable tumor can be safely removed. A multidisciplinary approach including surgical and nonsurgical therapies should be taken in patients with advanced disease.
Since its inception, the use of laparoscopy for colon surgery has slowly increased, albeit at a slower rate than for cholecystectomy. Initial concerns about the safety and efficacy of laparoscopy have been addressed, and it is now known to have several potential short-term and long-term benefits for the patient. Early studies likely underestimated use of laparoscopy because of coding error. Currently, 40% to 50% of colectomies in the United States are performed laparoscopically, with a 10% to 20% rate of conversion to an open operation. The definitions oflaparoscopy and conversion to open remain at the discretion of the surgeons and their coders. Disparities still exist among use based on several patient, hospital, and surgeon factors. In the future, we will likely see a continuing increase in use as the new generation of surgeons enters practice, and there will be an increasing role for laparoscopy in rectal surgery. The benefit and extent of robotic surgery, natural orifice surgery, and single-incision surgery for minimally invasive colectomies are yet to be defined.
People's engagement in community activities is reportedly stronger in rural areas than in urban areas. However, it is unknown whether this affects the health-seeking behaviour of residents in rural communities. We examined whether the rurality-related index of a community was associated with the participation rate of residents in community-based preventive health services. Based on the national census data on all the 1816 municipalities in Japan in 2007, the correlation was evaluated between the participation rate in cancer screening (stomach cancer, colorectal cancer) or influenza vaccination programmes among those older than 65, and each of the municipality-level variables. The correlations were examined by simple correlation and multiple regression analyses. The correlations were also evaluated between voting rate (a parameter of people's engagement in community activities) and each municipality-level variable with multiple regression analysis. Simple correlation analysis showed that the population density was negatively correlated with the participation rate of all (stomach cancer, colorectal cancer, and influenza) preventive programmes (r = -0.367, -0.171 and -0.188, respectively; each p < 0.001). The significant correlations were maintained even after adjustment for other socioeconomic factors in multiple regression analysis in stomach cancer screening and influenza vaccination (beta = -0.279 and -0.133, respectively: each p < 0.05). Population density was negatively correlated with voting rate (beta = -0.488: p < 0.001). Residents in rural communities were more likely to participate in community-based mass preventive services and were more actively engaged in political activities than their urban counterparts. These results suggest that rural residents have a stronger sense of community, and this could potentially facilitate residents' engagement in mass preventive services.
This page last updated: 1st February 2014
Displaying links verified within last 2 weeks at time of update.