Digestive and Gastrointestinal System cancers.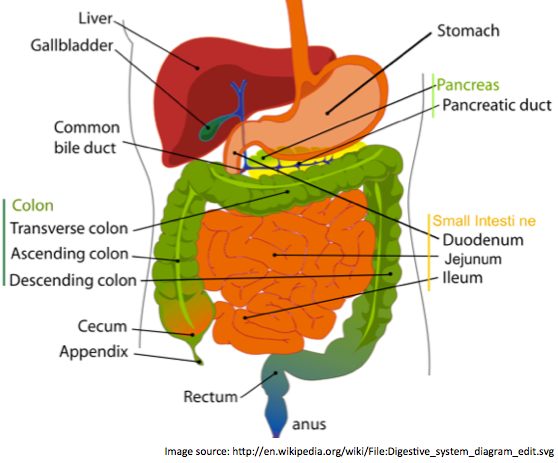 Menu: Gastrointestinal System Cancers

Anal Cancer

Appendix Cancers - including PMP

Colorectal (Bowel) Cancer

Esophageal Cancer

Extra-hepatic Bile Duct Cancer

Gallbladder Cancer

Gastrointestinal Carcinoid Tumours

Gastrointestinal Stromal Tumours

Liver Cancer

Pancreatic Cancer

Stomach (Gastric) Cancer

Small Bowel Cancer

Medical Terminology - Gastrointestinal

General Resources for GI Cancer

Latest Research Publications
American Gastroenterological Association

AGA
Founded in 1897, the AGA has grown to include more than 16,000 members from around the globe who are involved in all aspects of the science, practice and advancement of gastroenterology. The AGA Institute administers the practice, research and educational programs of the organization. Stomach Cancer

ESMO World Congress on Gastrointestinal Cancer

Frontiers in Gastrointestinal Cancers

Frontiers journals

Gastrointestinal Cancers Portal

American Society of Clinical Oncology
A portal including information fed from JCO, other journals, ASCO conferences and other sources.

Gastrointestinal Cancers Symposium

A annual conference - multidisciplinary which brings together a diverse group of stakeholders involved in the prevention, detection, and treatment of GI cancers.It includes translational research, novel clinical therapies, and state-of-the-art science in GI oncology.

Journal of Gastrointestinal Cancer

Springer
"The multidisciplinary Journal of Gastrointestinal Cancer publishes novel research pertaining to cancers arising from the gastrointestinal tract. Coverage spans all relevant fields, emphasizing studies that aid in understanding and treating cancers affecting the esophagus, stomach, liver, gallbladder and biliary tree, pancreas, small bowel, large bowel, rectum, and anus." Stomach Cancer

Journal of Gastrointestinal Oncology

Pioneer Bioscience Publishing
Official journal of Society for Gastrointestinal Oncology (SGO), an open-access, international peer-reviewed journal.

Oncology Clinical Trials Office - University of Oxford

OCTO
OCTO run regional and national clinical trials, aiming to provide high-quality clinical research into innovative and effective cancer therapies and prevention strategies particularly in the field of gastrointestinal cancer.

Translational Gastrointestinal Cancer

AME Publishing
Open Access journal of the Society for Translational Cancer Research and Chinese Society of Gastric Cancer. New findings in translational research in GI cancers, diagnosis, prevention and clinical investigations of GI cancers.
This list of publications is regularly updated (Source: PubMed).
Soybean (Glycine max), mistletoe (Viscum album) and red clover (Trifolium pratence) have been argued to have anti-cancer effects. In the present study it was aimed to investigate possible effects of these plant extracts on the activities of DNA turn-over enzymes, namely adenosine deaminase (ADA) and xanthine oxidase (XO) in cancerous and non-cancerous gastric and colon tissues. For this aim, 6 cancerous and 6 non-cancerous adjacent human gastric tissues, and 7 cancerous and 7 non-cancerous adjacent colon tissues were obtained by surgical operations. Our results suggest that aqueous soybean, mistletoe and red clover extracts may exhibit anti-tumoral activity by depleting hypoxanthine concentration in the cancer cells through XO activation, which may lead to lowered salvage pathway activity necessary for the cancer cells to proliferate in the cancerous colon tissue. Some foods like soybean, mistletoe and red clover may provide nutritional support to medical cancer therapy through inhibiting and/or activating key enzymes in cancer metabolism (Tab. 4, Ref. 33).
Cutaneous metastases arising from an internal malignancy are a rare phenomenon, occurring in 0.001% of all skin biopsies performed. Of these, 6.5% originate from the a primary colon cancer. Colon cancer, when metastatic to the skin, typically appears as a painless flesh-colored nodule or as a mass with occasional ulceration. We report a case of a large cutaneous metastasis to the suprascapular region as the initial presenting symptom of an underlying colon cancer.
This page last updated: 3rd September 2014
Displaying links verified within last 2 weeks at time of update.