Digestive and Gastrointestinal System cancers.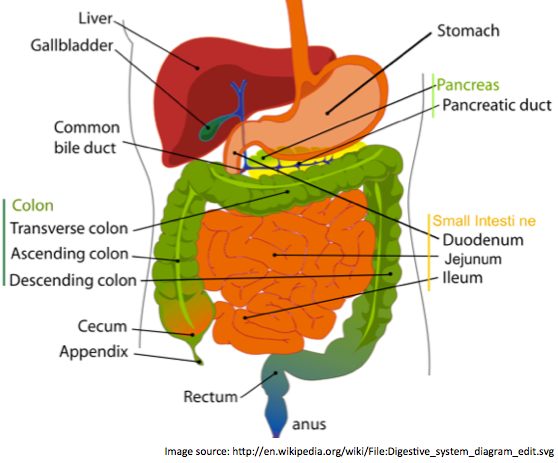 Menu: Gastrointestinal System Cancers

Anal Cancer

Appendix Cancers - including PMP

Colorectal (Bowel) Cancer

Esophageal Cancer

Extra-hepatic Bile Duct Cancer

Gallbladder Cancer

Gastrointestinal Carcinoid Tumours

Gastrointestinal Stromal Tumours

Liver Cancer

Pancreatic Cancer

Stomach (Gastric) Cancer

Small Bowel Cancer

Medical Terminology - Gastrointestinal

General Resources for GI Cancer

Latest Research Publications
American Gastroenterological Association

AGA
Founded in 1897, the AGA has grown to include more than 16,000 members from around the globe who are involved in all aspects of the science, practice and advancement of gastroenterology. The AGA Institute administers the practice, research and educational programs of the organization. Stomach Cancer

ESMO World Congress on Gastrointestinal Cancer

Frontiers in Gastrointestinal Cancers

Frontiers journals


Gastrointestinal Cancers Portal

American Society of Clinical Oncology
A portal including information fed from JCO, other journals, ASCO conferences and other sources.

Gastrointestinal Cancers Symposium

A annual conference - multidisciplinary which brings together a diverse group of stakeholders involved in the prevention, detection, and treatment of GI cancers.It includes translational research, novel clinical therapies, and state-of-the-art science in GI oncology.

Journal of Gastrointestinal Cancer

Springer
"The multidisciplinary Journal of Gastrointestinal Cancer publishes novel research pertaining to cancers arising from the gastrointestinal tract. Coverage spans all relevant fields, emphasizing studies that aid in understanding and treating cancers affecting the esophagus, stomach, liver, gallbladder and biliary tree, pancreas, small bowel, large bowel, rectum, and anus." Stomach Cancer

Journal of Gastrointestinal Oncology

Pioneer Bioscience Publishing
Official journal of Society for Gastrointestinal Oncology (SGO), an open-access, international peer-reviewed journal.

Oncology Clinical Trials Office - University of Oxford

OCTO
OCTO run regional and national clinical trials, aiming to provide high-quality clinical research into innovative and effective cancer therapies and prevention strategies particularly in the field of gastrointestinal cancer.

Translational Gastrointestinal Cancer

AME Publishing
Open Access journal of the Society for Translational Cancer Research and Chinese Society of Gastric Cancer. New findings in translational research in GI cancers, diagnosis, prevention and clinical investigations of GI cancers.
This list of publications is regularly updated (Source: PubMed).
Gangliocytic paraganglioma (GP) is a rare benign neuroendocrine tumour found most often in the duodenum. To our knowledge, only a dozen cases of possibly malignant duodenal GP with local lymph node metastasis and only one case with liver metastasis have previously been published. Herein, we report an unusual case of GP of the duodenum spreading to the retropancreatic space and metastatic to the liver and lymph nodes. Additionally, the present tumour secreted pancreatic polypeptide (PP) which was detected in the serum during the follow-up period. We suggest that serum PP could be a valuable marker in the diagnosis and follow-up of patients with GP.
Colorectal cancer (CRC) has formed a canonical example of tumourigenesis ever since its use in Fearon and Vogelstein's linear model of genetic mutation, and continues to generate a huge amount of research interest. Over time, the field has witnessed a transition from solely experimental work to the inclusion of mathematical and computational modelling. The fusion of these disciplines has the potential to provide valuable insights into oncologic processes, but also presents the challenge of uniting many diverse perspectives. Furthermore, the cancer cell phenotype defined by the 'Hallmarks of Cancer' has been extended in recent times and provides an excellent basis for future research. The authors present a timely summary of the literature relating to CRC, addressing the traditional experimental findings, summarising the key mathematical and computational approaches, and emphasising the role of the Hallmarks in current and future developments. The authors conclude with a discussion of interdisciplinary work, outlining areas of experimental interest which would benefit from the insight that theoretical modelling can provide.
Kisspeptins, the products of the KISS1 gene, are involved in cancer invasion, migration, metastasis and angiogenesis, while they induce apoptosis in various cancers. Herein, we studied KISS1 expression in colorectal cancer. We analyzed KISS1 expression using immunohistochemistry and image analysis in normal and malignant tissue samples from 60 patients with colorectal adenocarcinoma. The results correlated with various clinicopathological parameters. The expression of KISS1 was much higher in normal than in malignant colonic mucosa. However, among malignant tissues, KISS1 expression was higher in larger tumors (>4 cm) than in smaller ones (≤4 cm) and in stages III and IV than in stages I and II. In addition, it was higher in patients with lymph node metastases. Moreover, KISS1 levels in the normal mucosa and their difference from those in the malignant mucosa were higher in the right part of the large intestine than in the left one. KISS1 expression is reduced during the malignant transformation of the colonic mucosa and there is a difference in the expression pattern between the right and the left part of the large intestine. However, larger and advanced colorectal tumors express higher KISS1 levels than smaller and localized ones.
The role of dietary factors in the outcome of colorectal cancer (CRC) has been the subject of many studies, but results are inconclusive. Presented here are the results of a systematic review of studies published on dietary factors and CRC outcome in the English literature between March 2002 and March 2012. Studies were subdivided into survival studies in CRC patients and CRC mortality studies in the general population. Sixteen of the 636 studies identified--5 on survival and 11 on mortality--met the predefined inclusion criteria. No consistent association between individual dietary components and CRC outcome was detected in the survival studies. In the mortality studies, an association between meat intake and increased CRC mortality was found in two ecologic studies; however, two prospective cohort studies did not confirm this association. An inverse association between cereal intake and CRC mortality was found in two ecologic studies. In conclusion, published studies investigating dietary factors and outcome in CRC are heterogeneous in design and findings. No dietary component was conclusively and consistently associated with survival in CRC patients. The results of mortality studies seem to indicate that meat intake has an adverse effect on CRC mortality, while cereal intake may be protective.
Perineural invasion (PN) in colorectal cancer (CRC) is a site-specific prognostic marker, as mentioned by the AJCC Cancer Staging Manual, but it remains to be clearly defined. We aimed to identify an optimal characterization of PN as a component of cancer staging. On the basis of the anatomic features of the nervous system of the large bowel, site-specific pathologic criteria were assigned to PN according to the location of PN. Multi-institutional pathologic review based on these criteria was performed for 962 patients with stage I to III CRC at 2 institutions (1999 to 2004, cohort 1) and 1883 patients from 8 other institutions (2000 to 2004, cohort 2). In cohort 1, intramural and extramural PN were observed in 152 and 101 patients, respectively, which had a different impact on disease-free survival (hazard ratio, 2.6 [1.9 to 3.5] vs. 4.7 [3.4 to 6.5], respectively). A 3-tiered grading system (Pn0; Pn1a, intramural PN; Pn1b, extramural PN) distinguished 5-year disease-free survival as 88%, 70%, and 48%, respectively; and multivariate analysis identified PN grade as a significant prognostic marker independent of T or N stage. These results were similar in cohort 2. Interinstitutional difference of the prognostic impact of PN grade was acceptably small among all institutions. Interobserver study among 6 gastrointestinal pathologists showed superior judgment reproducibility for PN compared with vascular invasion. The results of our study indicate that PN is an important prognostic marker in CRC. The value of cancer staging could be enhanced by PN assessment using site-specific criteria and a simple grading system based on PN location within the bowel.
Several previous studies have demonstrated that the CDX2-negative (CDX2) and/or CK20-negative (CK20) phenotypes of colorectal cancers (CRCs) might be associated with high levels of microsatellite instability (MSI-H). The aim of this study was to investigate the clinicopathologic and molecular features of MSI-H CRCs with different CDX2/CK20 expression statuses. The CDX2 and CK20 expression statuses were immunohistochemically evaluated in 109 MSI-H CRC tissue samples, and the correlations of these statuses with clinicopathologic, molecular, and survival data were statistically analyzed. Of the 109 MSI-H CRCs, 15 were CDX2 (13.8%), and 19 were CK20 (17.4%). The simultaneous loss of CDX2 and CK20 expression (CDX2/CK20) was observed in 9 cases (8.3%). CDX2 loss was correlated with lymph node metastasis, poor differentiation, MLH1 loss, the mutation of BRAF, and CpG island methylator phenotype-high (CIMP-H) status. Right-sided tumor location, nodal metastasis, poor differentiation, and CIMP-H status were significant characteristics of CK20 tumors. The CDX2/CK20 phenotype was associated with older age (above 56 y), higher stage (stage III or IV), deep invasion (pT3 or pT4), lymph node metastasis (pN1 or pN2), poor differentiation (nonmedullary/non-signet ring cell type), the mutation of BRAF, and CIMP-H status among MSI-H CRCs. Patients with CDX2/CK20 tumors exhibited worse overall and disease-free survival compared with the patients with CDX2 and/or CK20 tumors (P<0.001). In the multivariate analysis for disease-free survival, the CDX2/CK20 phenotype was an independent prognostic factor for MSI-H CRC (P=0.030, hazard ratio=3.288). The CDX2/CK20 phenotype defines a distinct subgroup of MSI-H CRCs with poor differentiation, CIMP-H status, and unfavorable prognosis.
Since the introduction of ventral mesh rectopexy for rectal prolapse, concern exists as to how this may interfere with subsequent rectal cancer surgery. To our knowledge, this is the first report of total mesorectal excision for cancer after such a rectopexy. We discuss surgical technique, pitfalls encountered and oncological outcome.
We present a very unusual case of a woman with an intrauterine contraceptive device (IUCD) who developed pelvic actinomycosis during long course chemoradiotherapy for rectal cancer, which presented a significant diagnostic challenge and eventually rendered the cancer unresectable. IUCDs are often implicated in the development of pelvic actinomycosis but there is no current evidence or guideline to suggest that they should be removed prior to oncological treatment. Owing to the devastating consequences of this combination of disease, we suggest that it may be prudent to remove IUCDs in this setting.
This page last updated: 3rd December 2013
Displaying links verified within last 2 weeks at time of update.