Digestive and Gastrointestinal System cancers.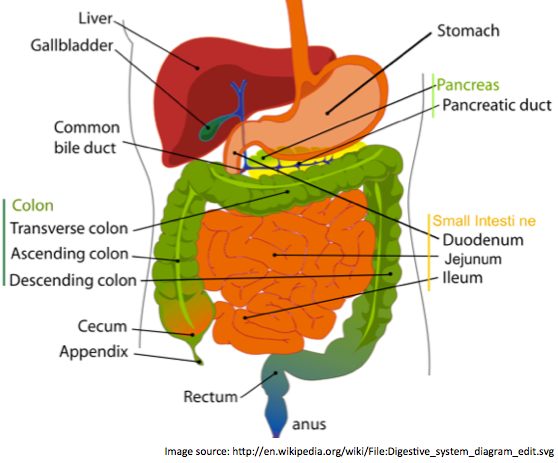 Menu: Gastrointestinal System Cancers

Anal Cancer

Appendix Cancers - including PMP

Colorectal (Bowel) Cancer

Esophageal Cancer

Extra-hepatic Bile Duct Cancer

Gallbladder Cancer

Gastrointestinal Carcinoid Tumours

Gastrointestinal Stromal Tumours

Liver Cancer

Pancreatic Cancer

Stomach (Gastric) Cancer

Small Bowel Cancer

Medical Terminology - Gastrointestinal

General Resources for GI Cancer

Latest Research Publications
American Gastroenterological Association

AGA
Founded in 1897, the AGA has grown to include more than 16,000 members from around the globe who are involved in all aspects of the science, practice and advancement of gastroenterology. The AGA Institute administers the practice, research and educational programs of the organization. Stomach Cancer

ESMO World Congress on Gastrointestinal Cancer

Frontiers in Gastrointestinal Cancers

Frontiers journals

Gastrointestinal Cancers Portal

American Society of Clinical Oncology
A portal including information fed from JCO, other journals, ASCO conferences and other sources.

Gastrointestinal Cancers Symposium

A annual conference - multidisciplinary which brings together a diverse group of stakeholders involved in the prevention, detection, and treatment of GI cancers.It includes translational research, novel clinical therapies, and state-of-the-art science in GI oncology.

Journal of Gastrointestinal Cancer

Springer
"The multidisciplinary Journal of Gastrointestinal Cancer publishes novel research pertaining to cancers arising from the gastrointestinal tract. Coverage spans all relevant fields, emphasizing studies that aid in understanding and treating cancers affecting the esophagus, stomach, liver, gallbladder and biliary tree, pancreas, small bowel, large bowel, rectum, and anus." Stomach Cancer

Journal of Gastrointestinal Oncology

Pioneer Bioscience Publishing
Official journal of Society for Gastrointestinal Oncology (SGO), an open-access, international peer-reviewed journal.

Oncology Clinical Trials Office - University of Oxford

OCTO
OCTO run regional and national clinical trials, aiming to provide high-quality clinical research into innovative and effective cancer therapies and prevention strategies particularly in the field of gastrointestinal cancer.

Translational Gastrointestinal Cancer

AME Publishing
Open Access journal of the Society for Translational Cancer Research and Chinese Society of Gastric Cancer. New findings in translational research in GI cancers, diagnosis, prevention and clinical investigations of GI cancers.
This list of publications is regularly updated (Source: PubMed).
We present a case of recurrent abdominal pain due to an ectopic or heterotopic pancreas. Heterotopic pancreas (HP) is the presence of histologic pancreatic tissue outside its normal location without any anatomic or vascular continuity with the pancreas. The frequency of HP has been estimated as 0.6-13.7%. Most are found in the duodenum, stomach, andjejunum. The exact mechanism remains controversial but it has been theorized that it most likely arises congenitally during embryonic development. The elevations of amylase and lipase levels are modest due to the small volume of pancreatic tissue in the HP. Therefore, diagnostic modalities including barium swallow, upper-gastrointestinal series, CT, EUS, and MRCP can be used when suspecting HP. The need for treatment is based on symptoms and definitive diagnosis, especially when the possibility of malignancy exists. Asymptomatic causes need not require treatment.
Lipomas of the colon are rare but clinically important conditions that require suitable evaluation for guiding appropriate therapy. The majority of lipomas arise from the submucosal layer in the ascending colon, especially near the ileocecal valve, which causes difficulties in diagnosis. Giant lipomas may be misinterpreted as a premalignant adenomatous polyp, particularly when arising in the left colon. A 38-year-old man presented with manifestations including hypogastric pain, constipation, loss of appetite and weight, accompanied by anaemia, nausea, vomiting and haematochezia. Colonoscopy revealed a large submucosal polyp about 5 x 4 cm, which was located at the splenic flexure of colonic. Surgery detected an oval polypoid tumour measuring 70 x 50 x 45 mm in size, having a pedunculated appearance and a stalk diameter of 20 mm. Histopathologic examination of the biopsy from the lesion confirmed diagnosis of a giant submucosal lipoma. In our experience, most giant colonic lipomas are found to be sessile and occur in the ascending colon in older patients. Herein, we report a pedunculated tumour in a 38-year-old male located in the splenic flexure of colon.
Impar ganglion is a solitary ganglion located retroperitoneally at the end of paravertebral sympathetic chain and usually in front of sacrococcygeal joint. Solitary or metastatic tumour in the surrounding tissues causes poorly localized pain. This case report presents a 75-year old male patient with colon cancer, whose severe pain during defecation could not be controlled with conventional high-dose opioid application but with transcoccygeal radiofrequency thermocoagulation. Radiofrequency thermocoagulation is promising not only for chronic pelvic pain control but also in pelvic pain secondary to malignancy particularly when the ganglion is localized by radiologic imaging techniques.
Intestinal bacterial beta-glucuronidases are capable of retoxifying compounds that have been detoxified by liver glucuronidation and are also known to accelerate colon cancer invasion and metastasis. In this study, fucoxanthin extracted from the microalga Phaeodactylum tricornutum was investigated for its inhibitory activity against Escherichia coli beta-glucuronidase and DLD-1 cancer cells. Fucoxanthin inhibited beta-glucuronidase in a concentration-dependent manner with an IC50 value of 2.32 mM and a mixed inhibition type. Fucoxanthin had more potent inhibitory activity on beta-glucuronidase at 37 degrees C and in alkaline conditions. Fucoxanthin also inhibited the beta-glucuronidase activity of DLD-1 cancer cells at a concentration of 20-50 microM. The presence of beta-glucuronidase and substrate in the medium decreased the inhibitory activity of fucoxanthin against DLD-1 cancer cells. Therefore, microalgal fucoxanthin might prevent colon cancer because of its strong beta-glucuronidase inhibitory activity and could be utilized as a novel functional ingredient of food and pharmaceutical supplements.
Water exchange (water infusion with water removal primarily during insertion) and water immersion (water infusion with water removal during withdrawal) reduce patient discomfort during colonoscope insertion compared with air insufflation, and represent a major achievement in colonoscopy. Hsieh et al. found that water exchange, relative to water immersion, resulted in more painless insertions to the cecum and improved adenoma detection in the right colon. However, water exchange is also associated with better bowel cleansing and longer insertion and procedure times. These factors are not specific to water exchange, but could account for all or part of the better results with water exchange. Additional controlled investigation is needed to define the benefits of water exchange compared with water immersion.
This page last updated: 6th November 2014
Displaying links verified within last 2 weeks at time of update.