Chondrosarcoma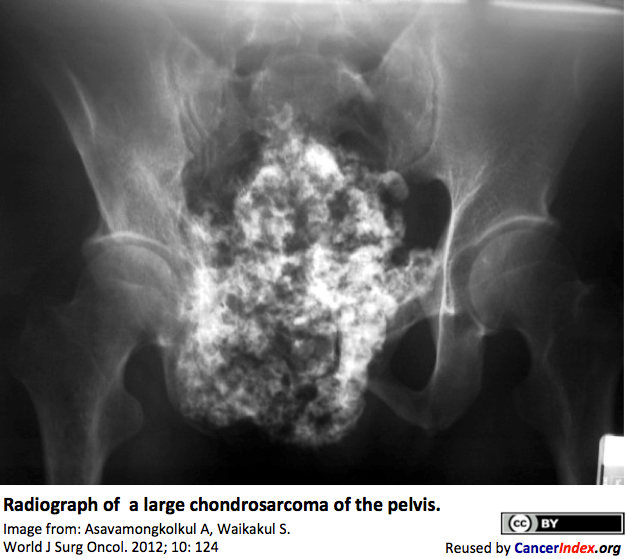 Chondrosarcoma is a type of cancer that forms in bone cartilage. The most frequent primary sites are the pelvis, shoulder, ribs, or at the ends of the arms and legs. Chondrosarcoma can occur at any age but is more common in people older than 40 years.
Mesenchymal chondrosarcoma
is aggressive variant of chondrosarcoma, which tend to occur in younger people.
Extraskeletal chondrosarcoma
is a rare type of chondrosarcomadoes, which forms in the soft tissues, rather than bone cartilage.

Information for Patients and the Public

Information for Health Professionals / Researchers

Latest Research Publications

Mesenchymal Chondrosarcoma

Bone Cancer Resources

Molecular Genetics of Chondrosarcoma
Information Patients and the Public (3 links)
Chondrosarcoma

Macmillan Cancer Support
Content is developed by a team of information development nurses and content editors, and reviewed by health professionals. Further info.


Chondrosarcoma

Liddy Shriver Sarcoma Initiative
The site includes an overview of Chondrosarcoma, more detailed information, support and research.

Chondrosarcoma Support Group - Online Forum

A moderated forum for patients and carers set-up by a patient.
Information for Health Professionals / Researchers (4 links)
PubMed search for publications about Chondrosarcoma - Limit search to: [Reviews]

PubMed Central search for free-access publications about Chondrosarcoma
MeSH term: Chondrosarcoma
US National Library of Medicine
PubMed has over 22 million citations for biomedical literature from MEDLINE, life science journals, and online books. Constantly updated.

Chondrosarcoma

BoneTumour.org
Detailed overview with numerous radiology and histopathology images. Covers Incidence and Demographics, symptoms and presentation, differential diagnosis, histopathology, and prognosis.

Chondrosarcoma

Medscape
A detailed referenced article by Dr Palaniappan Lakshmanan and colleagues, including radiology and histology images.

Chondrosarcoma - Foot and Ankle

BoneTumour.org
Detailed overview with numerous radiology and pathology images.
This list of publications is regularly updated (Source: PubMed).