Researcher's Menu (click on an icon)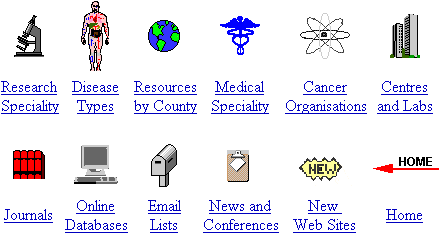 See also:

Alphabetical index of diseases and topics
---
---
See also

Resources by disease type
See also

Cytogenetics
See also

P53 / Li-Fraumeni Syndrome
See also

Genetic Counselling
---
RNA (3 links)
Ribosomal Database Project (University of Illinois at Urbana-Champaign, USA) LSU and SSU databases, analysis software etc.
RNA World (IMB Jena, Germany) An index of RNA sites and databases on the web. English language.
rRNA WWW Server (University of Antwerp, Belgium) The site includes the LSU and SSU rRNA databases and RNA related software
---
See also

Chemotherapy
See also

Pharmaceutical companies
---
See also

Molecular Biology - cancer
---
See also

Radiotherapy
See also

Radiology
---
See also

National Cancer Organisations
See also

Cancer Centres and Institutes
---
Reactive oxygen/nitrogen/chlorine radicals can damage DNA despite the antioxidant defence and repair systems of the body. DNA damage associated with free radicals is thought to make a significant contribution to the age-related development of cancer. Factors such as diet can modulate oxidative DNA damage, particularly by vegetable intake via antioxidants such as vitamin C, alpha-tocopherol and beta-carotene.
This page last updated: 22nd June 2013
Displaying links verified within last 2 weeks at time of update.