Welcome to "Guide to Internet Resources for Cancer". This site contains over 100 pages of links to cancer related information organised by disease, country, treatments, and other topics.
This page is intended to provide a starting point for health professionals. You may find it convenient to bookmark this page now so that you can return directly to this page at a later date. There are other starting points for Researchers and Patients.
If you are a new to this site please take a moment to read the Introduction and the Disclaimer.

---
Health Professional's Menu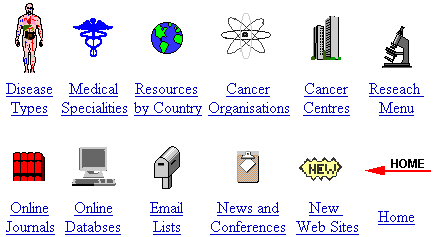 See also

Alphabetical index of diseases and topics
---

---
For disease types in more detail see the
alphabetical index
. Please note that there is a separate menu for
children's cancer
.

Bone Cancers (Ewing's Sarcoma, Osteosarcoma, Chondrosarcoma, Orthopaedics Links, Other Bone Tumours)
Brain and CNS Tumours (Organisations, Childhood Brain Tumours, Adult / General Resources, Centres / Units, Acoustic Neuroma, Spinal Cord Tumours, Brain Tumour Ring of Hope)
Breast Cancer (Organisations, Articles / Information, Screening, Self Examination, BMT in Breast Cancer, Genetic Markers in Breast Cancer, Personal Experiences, Male Breast Cancer, Ductal Carcinoma in situ)
ColoRectal Cancers (Screening and prevention, Genetic information, Anal cancer)
Endocrine Cancers (Adrenocortical Carcinoma, Pancreatic Cancer, Pituitary Cancer, Thyroid Cancer, Parathyroid Ca., Thymus Ca., Multiple Endocrine Neoplasia, Other Endocrine ca.)
Gastrointestinal Cancers (Stomach (Gastric) Cancer, Esophageal Cancer, Small Intestine Cancer, Gall Bladder Cancer, Liver Cancer, Extra-Hepatic Bile Duct Ca., Gastrointestinal Carcinoid Tumour)
Genitourinary Cancers (Testicular Cancer, Penile Ca., Prostate Cancer)
Gynaecological Cancers (Cervical Ca., Ovarian Ca., Vaginal Ca., Uterus / Endometrium Ca., Vulva Ca., Gestational Trophoblastic Ca., Fallopian Tube ca., Uterine sarcoma)
Head and Neck Cancer (Oral cavity, Lip, Salivary gland Ca., Larynx, hypopharynx, oropharynx Ca., Nasal, Paranasal, Nasopharynx Ca.)
Leukaemia (Dedicated sites / Organisations, Blood / Haematology, Childhood Leukaemia, Acute Lymphocytic Leukaemia, Acute Myeloid Leukaemia, Chronic Lymphocytic Leukaemia, Chronic Myeloid Leukaemia, Hairy Cell Leukaemia, BMT for Leukaemia, Patient's Home Pages, Acute Promyelocytic Leukemia, Plasma Cell Leukaemia)
Multiple Myeloma
Oth. Haematological Disorders (Myelodysplastic Syndromes, Myeloproliferative Disorders, Aplastic Anaemia, Fanconi Anaemia, Waldenstrom's Macroglobulinemia, Other)
Lung Cancer (Small Cell Lung Cancer (SCLC), Non-Small Cell Lung Cancer (NSCLC), Organisations, Causes / Prevention)
Lymphoma (Hodgkin's Disease, Non-Hodgkin's Lymphoma, Aids Related Lymphoma)
Eye Cancer (Retinoblastoma, IntraOcular Melanoma, Ophthalmic Oncology /General Eye)
Skin Cancer (Melanoma, Non-Melanoma Skin Cancer, Merkel Cell Cancer, Prevention of Skin Cancer, )
Soft Tissue Sarcoma (Childhood Soft Tissue Sarcoma, Adult Soft Tissue Sarcoma, Kaposi's Sarcoma)
Urinary System Cancer (Kidney Ca. / Wilm's Tumour, Bladder Ca., Urethral Ca., Transitional Cell Cancer, )
Other Types / Related disorders (Histiocytosis, Mesothelioma, Metastatic Cancer, Carcinoid Tumours, Neurofibromatosis, Germ Cell Tumours, Desmoplasic Small Round Cell Tumour, Malignant Rhabdoid Tumour -Non Renal, Cancer of Unknown Primary Site, Desmoid Tumour, Ataxia-Telangiectasia, Nijmegen Breakage Syndrome, Rothmund-Thomson Syndrome, Li-fraumeni Syndrome, von Hipple-Lindau Disease, Beckwith-Wiedemann syndrome, Down's Syndrome, Denys-Drash Syndrome, WAGR Syndrome, CIN cervical intraepithelial neoplas)
This page last updated: 22nd May 2013
Displaying links verified within last 2 weeks at time of update.